The Bulk Powder industry refers to the dry processing, handling and packaging of dry particulates. From the Food Industry to the Nutraceutical/Pharmaceutical Industries, to the Building Material marketplace, the Bulk Powder Industry has been using Dust Collection equipment as an integral part of their processes from the very beginning.

Whether the process is Bag Dumping, Barrel Filling, Mixing, Blending, Packaging or Weighing, fine airborne particulate is a common by-product. As with most dust producing processes, Source Capture is the preferred method of capturing the dust; however, there are some instances where Ambient Air Cleaning or Dust Collection is the only practical way.

Due to the fact that most of the dust in this industry is fine and powdery, either a Self-Cleaning Cartridge or Baghouse Style Dust Collection System is typically used. In the case of larger, heavier, abrasive or coarse materials, Cyclone Separators may be employed to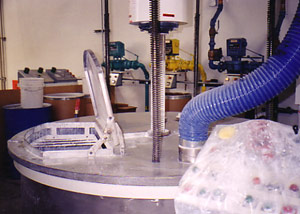 remove the larger particulate before it enters the Baghouse or Cartridge Collector. As with any Dust Collection System, the Industrial Ventilation Manual should be consulted for guidance on proper duct and hood design.

Common accessories to the Dust Collection System are Screw Conveyors, Rotary Valves, Abrasion Resistant Inlets and Explosion Relief Panels. For some applications, such as Food and Pharmaceutical, units may be required to be constructed of Stainless Steel. Donaldson Torit offers all of these options as standard accessories to their product lines.