An Environmental Control Booth (ECB) is a method of Dust Collection that employs the use of an Enclosure Booth to isolate dust producing manufacturing processes that cannot be easily source captured. Whether hand sanding, deburring, powder coating or abrasive blasting, an ECB is a very effective method of Dust Collection. An ECB combines the Containment Booth with one or more high efficiency, self-cleaning cartridge style Dust Collectors. The Dust Collector creates an airflow pattern that draws the air toward the back of the Booth, pulling airborne contaminants away from the Worker's breathing zone and away from the general shop environment. The particulate is pulled into the Dust Collector Module where it is collected on a cartridge filter that is 99.999% efficient on particles as small as .5 microns in size. Shop compressed air is utilized to clean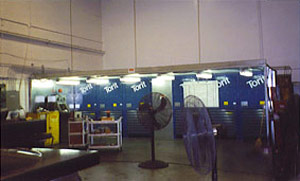 the collected dust off of the filters. The dust is contained in an easy to remove dust drawer located at the bottom of the unit.

The Booth Enclosure has many options including numerous lighting choices such as flush mount and explosion proof lights. They are also available with noise reduction material, sprinklers and several types of enclosure materials.