There are many different processes and markets that do not fall under a specific niche or SIC Code. These are typically smaller, more specialized markets; however, the process or equipment that produces the contaminant is typically handled in a similar fashion.

As with most other applications or processes, the most effective way of capturing the contaminant is through the use of Source Capture; however, in some instances, Source Capture may not be feasible and an ambient Air Cleaning or Dust Collection System may be what is required.

There are also many different types of Systems that can be utilized. Anything from a small intermittent duty Dust Collection System, to a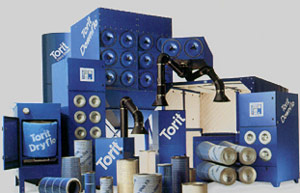 continuous duty, self-cleaning Dust Collection System that is designed to run 24/7 may be employed.

Consultation with a Dust Collection Expert, Industrial Ventilation Manual, Local Codes and company Insurance Carriers are recommended to best determine the correct piece of equipment and type of installation that is required.