Metal Finishing describes the process of putting a fine finish or gloss on metal parts or components. Metal Finishing processes include Abrasive Blasting, Deburring, Grinding, Sanding and Bufffing/Polishing to name a few.

The contaminant from these processes can be metal or composite materials, as well as the finishing media itself. Due to a wide variety of particulate size, shape, density and weight, a number of different filtration technologies may be used. Cyclone Separators may be used on larger particulate, where High Efficiency, Self-Cleaning Cartridge Type Dust Collectors are used on the finer particulate. Due to the explosive nature of some metals, some processes may require the use of a Wet Type Dust Collector.

There are also many ways to capture the contaminant from these processes. Some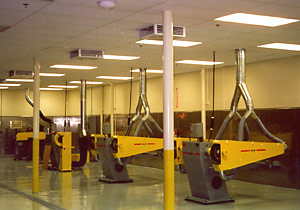 Metal Finishing Equipment and parts are small enough that Source Capture is possible and preferred; however, a lot of Metal Finishing processes, by virtue of either the size of the part being finished or the process, such as high speed tooling, cannot be source captured. In these instances either containment booths (see Environmental Control Booth Case Studies) or Downdraft Tables can be used very effectively.