Manufacturer of Brand Name and Generic Pharmaceuticals. A variety of dusts are created by miscellaneous mixing and blending processes. From bag dumping, to bag filling and mixing & blending, a great deal of fine dust is created.

Location:
Corona, CA


Installation Date:
2000


Type of Polutant:
Fine Pharmaceutical Dust


Airflow:
15,000 cfm


Capture Method:
Source Capture. Every process is equipped with custom fabricated Source Capture Hoods and Lids.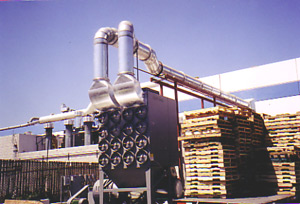 Filtration System:
A Self-Cleaning (32) Cartridge Dust Collection System. The unit is ducted inside the building where it is connected to multiple Source Capture Hoods. The unit is equipped with bag in/bag out collars and explosion relief panels.