Manufacturer of spas and whirlpool baths. A combination of wood working and fiberglass dust is created by a myriad of manufacturing processes such as sawing, routing, cutting, sanding and grinding.

Location:
Chino, CA


Installation Date:
1999


Type of Polutant:
Wood & Fiberglass Dust


Airflow:
50,000 cfm


Capture Method:
Source Capture. Each piece of Woodworking Equipment has a custom fabricated Source Capture Hood, or is directly connected to the Dust Collector with the Manufacturer's machine guard.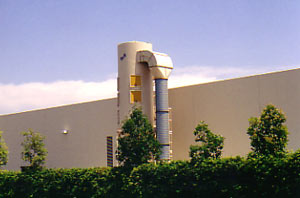 Filtration System:
A Reverse Pulse Self-Cleaning Baghouse Style Dust Collection System. Unit discharges collected dust through a Rotary Air Valve into a 40 yard roll-off dumpster. Unit equipped with Abrasion Resistant Inlets, Explosion Relief Panels and Sprinkler Taps, thus meeting Los Angeles County Fire Authority and National Fire Protection Agency requirements.