Set designer for movies and television. Most of the work is done in wood; however, some plastic and other synthetic materials are used and collected in the Dust Collection System.

Location:
Valencia, CA


Installation Date:
1998


Type of Polutant:
Wood Dust


Airflow:
10,000 cfm


Capture Method:
Source Capture. Each piece of Equipment has a custom fabricated Source Capture Hood, or is directly connected to the Dust Collector with the Manufacturer's machine guard.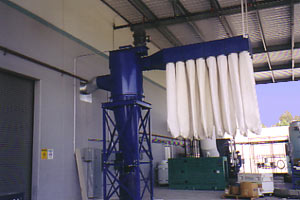 Filtration System:
A 50 Horsepower Cyclone Style Dust Collection System with Bag Style Afterfilter. Large particulate is discharged and contained in a standard 55 gallon drum. Fine Dust is collected and contained in the Afterfilter section.