Toner Re-Manufacturing. Toner cartridges for copiers, printers and fax machines are emptied of the spent toner and re-filled with fresh toner.

Location:
Chatsworth, CA


Installation Date:
2000


Type of Polutant:
Carbon Black/Toner Dust


Airflow:
(1) 10,000 cfm unit and (1) 6,000 cfm unit


Capture Method:
Source Capture. Custom Hoods were fabricated and installed. Both the emptying and filling of the cartridges is performed within the confines of the Source Capture Hoods, thus the airborne toner dust is pulled back, away from the worker's breathing zone and the general shop environment.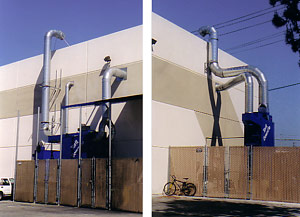 Filtration System:
Two Self-Cleaning Cartridge Dust Collectors are installed outside and ducted into the building where they are connected directly to the Source Capture Hoods. Explosion Relief Panels are installed due to the high potential for explosion from the collection of Toner Dust.