Manufacturer of assorted products for the Dental Industry. From Metal based products to Plastic based products, this Fortune 500 company makes over 250 Dental Instruments from this Irvine location. A combination of manufacturing processes creates metal, plastic and composite dusts.

Location:
Irvine, CA


Installation Date:
2003


Type of Polutant:
Fine Metal, Plastic and Composite Dust


Airflow:
15,000 cfm


Capture Method:
Source Capture. Each process is equipped with a custom fabricated Source Capture Hood, for fast, at-the-source capture of dust.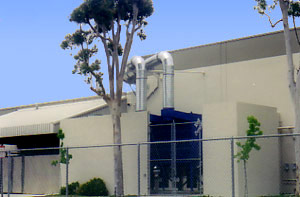 Filtration System:
A Self-Cleaning (32) Cartridge Dust Collection System with Ground Mount Fan. The Dust Collector is ducted inside the building where it is connected to either Source Capture Hoods, or directly connected to the dust producing machine itself.