Manufacturers of gas tanks for the Scuba and Hospital Industries. New tanks are made, as well as used tanks from the field taken in and re-manufactured. During this process, the tanks go through multiple belt sanders and buffing/polishing operations to put a fine finish on the tank.

Location:
Garden Grove, CA


Installation Date:
2000 - Present


Type of Polutant:
Fine Aluminum Dust


Airflow:
(1) 10,000 cfm unit and (1) 2,000 cfm unit


Capture Method:
Source Capture. The Belt Sanders are located in a complete plexiglass enclosure. The Dust Collectors are ducted to both the Belt Sander itself, as well as into the Enclosure, thus pulling a negative pressure, preventing the dust from escaping the enclosure.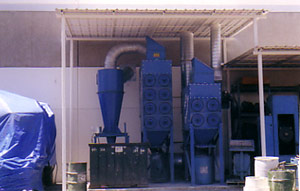 Filtration System:
A Self-Cleaning (16) and (4) Cartridge Dust Collector is installed outside and ducted into the building. A Cyclone Pre-Cleaner is installed before the Cartridge Collector to remove larger particulate from the airstream before it reaches the Cartridge Filters. Due to the explosive nature of aluminum dust, the units are equipped with Explosion Relief Panels, thus meeting local Fire Code and National Fire Protection Agency requirements.