Manufacturers of hydraulic fittings for the Aerospace Industry. The parts are sanded, polished, ground and buffed to produce a fine finish. This process produces both fine metal dust from the part, as well as lint from the polishing material itself. Due to the mixing of both ferrous and non-ferrous metals, an explosion hazard existed, thus the use of a Wet Type Dust Collection System.

Location:
Pacoima, CA


Installation Date:
2002


Type of Polutant:
Fine Aluminum and Titanium Dust from the parts, as well as lint from the buffing wheels.


Airflow:
5,000 cfm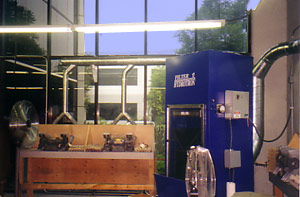 Capture Method:
Source Capture. All of the finishing machines were equipped with custom fabricated Source Capture Hoods for fast, at-the-source capture of the dust.
Filtration System:
A 5,000 cfm Wet Dust Collector.