Local Welding School at Union Apprenticeship Facility. A total of (16) Welding Stations are equipped with Swing Arm and Source Capture Hoods. The System is hooked up to a heavy duty roof mounted exhaust fan, exhausting the smoke to atmosphere.

Location:
Santa Ana, CA


Installation Date:
1998


Type of Polutant:
Welding Smoke


Airflow:
15,000 cfm


Capture Method:
Source Capture. Each Welding Station is equipped with an 8" Diameter x 10' Long Source Capture Hood and Swing Arm Assembly.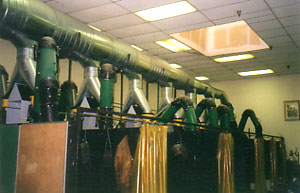 Filtration System:
The Welding Smoke is exhausted outside.