Manufacturers of rough building hardware, structural steel, custom truss steel and hardware. A lot of parts are cut on their Plasma Cutting Table. Smoke and Dust from the Plasma Cutter needed to be controlled for both worker safety and to satisfy the South Coast Air Quality Management District.

Location:
Santa Ana, CA


Installation Date:
1997


Type of Polutant:
Plasma Cutting Smoke and Dust


Airflow:
2,500 cfm


Capture Method:
Source Capture/Downdraft. The Dust Collection System is hooked up to the Plasma Cutting Table in two place, pulling the smoke and dust downward.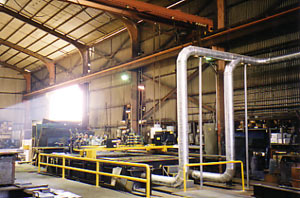 Filtration System:
A Self-Cleaning (4) Cartridge Dust Collection System.