Manufacturers of parts and accessories for the Motorcycle and other performance vehicle markets.

Location:
Whittier, CA


Installation Date:
2001


Type of Polutant:
Welding Smoke


Airflow:
4,000 cfm


Capture Method:
Source Capture. Each Welding Station was equipped with an 8" diameter x 10' long Source Capture Hood and Swing Arm Assembly.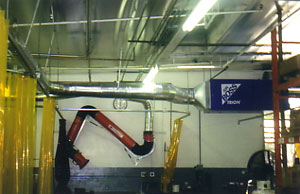 Filtration System:
Media (Bag) Style Air Cleaning System. Unit is hung from the ceiling and ducted directly to the (4) Swing Arm Assemblies.