Manufacturers of precision parts and components for the Gas Turbine and Jet Engine markets. Parts are brought in from the field and repaired. Parts are coated with a Metal Spraying operation that creates a great deal of fine smoke and dust.

Location:
San Diego, CA


Installation Date:
2001


Type of Polutant:
Thermal Spraying Smoke and Dust


Airflow:
10,000 cfm


Capture Method:
Source Capture. Each process is equipped with a custom fabricated Source Capture Hood.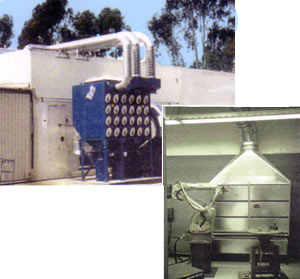 Filtration System:
A Self-Cleaning (48) Cartridge Dust Collection System with Ground Mount Fan, Abrasive Resistant Inlets and Explosion Relief Panels.