Manufacturers of faux fireplace logs and other miscellaneous fireplace accessories. All the Welding is performed in a custom booth. The Booth is connected to a heavy duty roof mounted exhaust fan that pulls the Welding Smoke out and away from the Worker's Breathing Zone and general shop environment.

Location:
Santa Ana, CA


Installation Date:
2000


Type of Polutant:
Welding Smoke


Airflow:
6,000 cfm


Capture Method:
Source Capture. The Exhaust Fan is ducted directly to each Welding Bay for fast, at-the-source capture of Welding Smoke.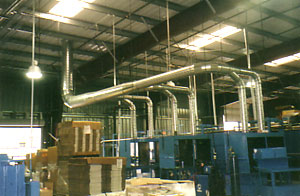 Filtration System:
The Welding Smoke is exhausted outside.