Manufacturers of custom solutions for the fueling industry, specifically custom sheet metal work for gas stations. Parts are precision cut on a Plasma Cutting Table. The Plasma Cutting Table is hooked up to a high efficiency Cartridge Dust Collector, providing worker safety and compliance with the South Coast Air Quality Management District.

Location:
Buena Park, CA


Installation Date:
1997


Type of Polutant:
Plasma Cutting Smoke and Dust


Airflow:
10,000 cfm


Capture Method:
Source Capture/Downdraft. The Dust Collection System is hooked up to the Plasma Cutting Table in two places, pulling the smoke and dust downward.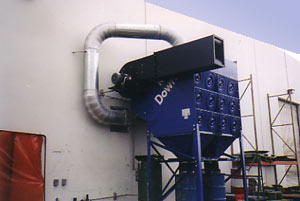 Filtration System:
A Self-Cleaning (24) Cartridge Dust Collection System.